Clean Car Tips
We are committed to providing the best service possible, but there are some things that you should know about keeping your car clean and protecting it's finish.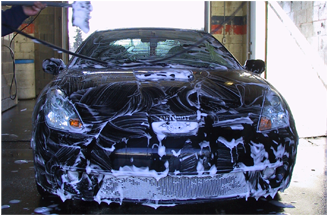 Winter Road Film
During the freeze-thaw cycles of winter, road film becomes especially bad. The oils in the pavement mix with the water, salt and dirt washing over your vehicle. It creates a tough tar-like film on the surface of your vehicle.
There are many factors that determine how difficult it will be to clean your vehicle:
Newer paint finishes should clean easier than one that has been effected by UV rays, oxidization, fine abrasions thin finish and age.
Waxing your vehicle's surface can help protect your finish, but wax with silicones in it can attract and hold the oils from the road.
The process your car's manufacturer used to paint your vehicle
And how well you yourself take care of the vehicle over time
We recommend annually using a clay bar kit to remove brake dust and dirt that has embedded in the paint. You will know you need it if your car looks clean but feels rough. A clay bar kit will pull this dirt out, making your car easier to clean and feeling clean too!
While no one kind of car care advice can work for every kind of vehicle, the following are some general tips that will help with most vehicles:
A solvent is necessary to remove the oily tar from your finish.
All solvents will remove remove your wax as well as loosen the tar-like road film.
Friction may be necessary to aid in the removal of tar. Our self-service carwashes equipped with foaming hogs-hair brush and solvent based tire-cleaner can further aid in cleaning the tar from your vehicle.
We do not dispense solvents in our wash processes at this time.
As a courtesy, we can spray you with a citrus-based solvent. Temperatures, dwell time and degree of tar can all affect how well it works.
Other Car Care Tips
More frequent washing, aids in making your vehicle easier to clean and helps protect your vehicle's finish.
Choosing a wash with presoak is important when your vehicle is dirty. Presoak helps to loosen the road film so the wash soap can do its job.
When washing in cold weather, it is important to dry off the weather strip around your doors and put deicer in your locks if your vehicle remains outside. This will prevent doors from freezing shut.
The wax offered with our washes is safe on clear coat finishes. It offers protection to your paint finish for about one week and protects against UV damage. The wax pass also serves as another high-pressure rinse pass.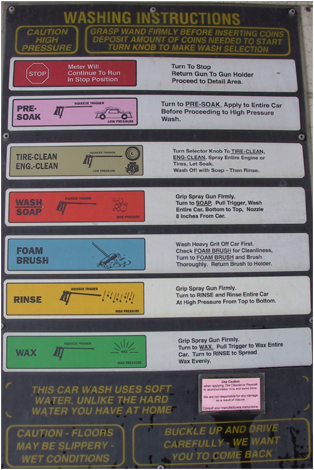 © 2010–2018 RAINMAKER Touchless & MAGIC WAND auto wash care services. All Rights Reserved. Site developed by: Russell E. King