If you used the carwash between 08/24/2020 and 12/21/2020, you may have been affected by a billing error. All American Express card holders that used our facility during that time were not charged. Please be aware that all applicable charges will be re-run between 1/15/2021 to 1/22/2021. If you have any questions, please reach out.

About Us


Family owned since 1965, we have five convenient Rainmaker Touchless Carwash and Magic Wand Carwash locations to serve you. Our facilities are equipped with vacuum, fragrance and shampooing stations along with vended auto care products for your vehicle's interior.
Rainmaker Touchless Pricing
Basic: $12
Super: $16
Works: $18
Mudblaster: $22
Accepts:
Washcards, $1 coins, Quarters, Credit and Debit Cards.
Magic Wand
Pricing
$3.00 to start
You can add additional coins for additional time.
Meters accept:
Quarters, Tokens and $1 coins
Bill changers dispense $1 coins and Tokens
Tokens are worth 25 cents.
Credit/Debit/Washcard can be used in the bays

Rainmaker Touchless

carwashes are in-bay, automated touchless washes that excel at cleaning with rotating, high-pressure water jets which provide better impingement to clean your vehicle where sprays can't reach. We also provide complimentary, pre-wash solvent sprays that loosen tarry road grime caused by oils and liquid snowmelt. Additionally, our drying time of 70 seconds is the longest time offered in the business.

Rainmaker Touchless carwashes are open 24 hours a day, 7 days a week with no appointment necessary. You can wash your vehicle on your schedule and at your convenience.

Be sure to ask our attendants about our washcards which are discounted 10% for purchases $50 and over. Or order them from this website at the link above and we will mail them to you!

Our wash cards will work at both the Rainmaker Touchless and Magic Wand carwashes! This can make a great gift.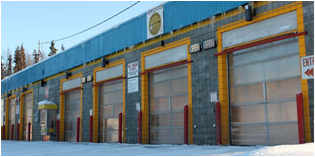 Magic Wand
carwashes are
complete self-service facilites
, designed for vehicle owners who enjoy taking the time to clean their vehicles them selves, but without the fuss and mess of sponges, buckets, cold water and lawn hoses. You choose from our menu of wash and treatment options,
then apply those to your vehicle through our hand-held,
high pressure water wand
and
gentle hogs-hair, foaming brush wand
. Our facilities can accommodate certain vehicles (such as
snow plow trucks, delivery vans, RV's and trailers
) that cannot get through conventional carwashes.
During the winter, our Magic Wand Carwashes have automated bay doors to keep you and the wash area warm. We are open 6:30am to 9pm and 7 days a week.
© 2010–2023 RAINMAKER Touchless & MAGIC WAND auto wash care services. All Rights Reserved. Site developed by: Russell E. King